You have bought this big home safe, fire-resistant and all. There are many things to protect in your life. I chose to store securely many of the items below.
So, what are the things to keep in a safe at home? Remember, a safe doesn't only provide security against theft, it protects important documents against fire. And lastly, you will enjoy the peace of mind of having everything tidy and safe. That is less stress in your life. Read through that long list and keep what you find most important for you.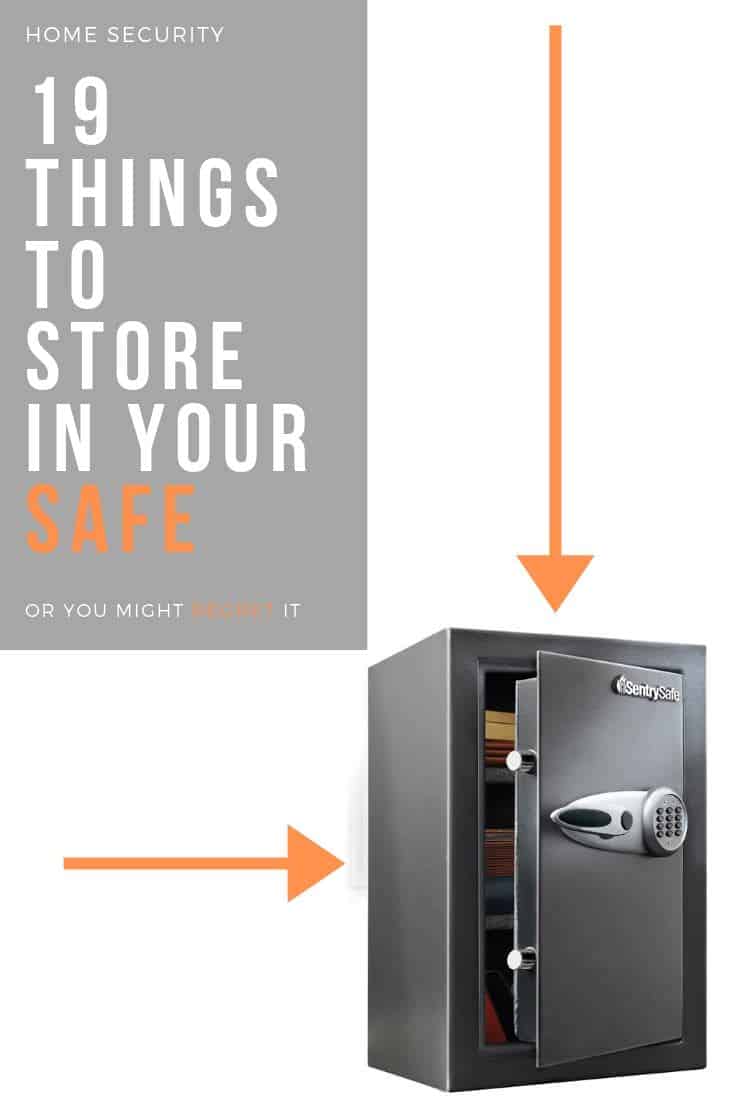 So, here is what to put in a fire safe:
1. Birth certificates
Everyone in every family has a birth certificate. Those certificates are important because they prove your identity, place, and date of birth, and are required in case of a lost ID card. And, if stolen, you might risk a stolen identity which is something you definitely don't want.
2. Cash
Having cash at hand is always a good thing. Emergency cash often proves to be useful. But how much should be stored in your safe? This is up to you, of course, and a deposit box at the bank is sometimes preferred. I can't see much advantages in having emergency cash at the bank since your bank account is here to play that role. But a fireproof home safe is a good place I think to keep emergency cash. And if you are afraid, remember the two-safe thing where one of them plays the role of a lure.
3. Guns
If you have guns at home, chances are you prefer to keep them secured from children or intruders. This is critical and often required by law depending on the state or country you live in. In some places, ammunition needs to be stored in a separate box than the gun itself. For that purpose, if you own a big safe, it is easy to fit a small gun and an ammo box inside. If, on the contrary, your gun is long and big, you need to buy a gun safe, perfect for that purpose. On the contrary, if you own a big gun safe, you can often add a shelf where you can store non-related gun stuff.
4. Jewelry
Here again, jewelry can be stored in a deposit box. But, as many say, what is the purpose of jewelry if I never get the chance to wear it? If your jewelry is not only for investment purpose, you want to keep it at hand. You don't want to go to the bank each time you want to match that dress. Your home safe is a good place to store jewelry, or at least, jewelry you might wear. Irreplaceable and important belongings can find their place close to your jewelry, in your hart as well as in your safe.
5. Stock certificates
They are the physical proof you own a share in a company.
As well as other investment paperwork, your stocks and bond certificates should be in your safe, protected from fire and theft. Copy both sides of the certificates to keep them in your regular files. But the original should be kept safe. If it is lost or destroyed, you will lose time and money for example in the case of an acquisition of the company. You might have to wait to prove you are the stockholder or even buy liability insurance to get paid sooner. But in any case, that can prove to be expensive.
Again, with physical stock certificates, you have the peace of mind not to rely on internet security for your investments. This can be an advantage in the long run. Many are still averse to go with online brokers.
6. Important invoices
In the event of a burglary, you will have to prove your words and provide your insurance company with many invoices. You are well insured, that is certain. But if you don't have that new television invoice, or that 3 years old MacBook Pro invoice, it will be hard to attest you owned them. Especially for older jewelry.
For expensive objects whose invoices you never had, it is a good idea to have them evaluated, and a certificate issued.
You can take a picture of the object (familial jewelry, sculpture, musical instrument, etc.) and store it with its certificate in your fire-resistant home safe.
Prove everything with a pile of invoices, and you will be covered by your insurance and reimbursed far more quickly and with less hassle. Oh, and you might even save some money if you don't lose an invoice and want a guaranty applied…
7. Backups
If you have important digital documents that you already store online or not, placing them in your safe is generally a good idea. Again, they are protected against theft and fire. Your laptop is stolen? Probably so with the USB stick store in the bag along with the laptop. Remember all the hours for that scholar work. Or all the irreplaceable pictures of your family you have taken along the years. Having a backup in your safe is wise.
It is compulsory if you think of hard drives fail rates. And if you don't want your most private data live on remote servers somewhere in the world: your own physical back up strategy has a role to play. And that has to do with one or preferably more USB sticks, memory cards, or hard drives stored in the safe. Needless to say that the safe has to be fire-proof, preferably 60 minutes for best protection of electronic devices.
8. Life insurance policies
Remember why you have a life insurance: people depend financially on you. It might be your spouse, children, parents. Like a will, a life insurance policy is a certificate necessary to take action in the event of a life loss. This provides an additional peace of mind for the policyholder. Having access directly and rapidly to all policies is a priceless comfort for family members when they endure the loss of a lost one.
Remember there are four players in a life insurance policy. The insurance (who will be paying out), the owner (responsible for payments), the insured person and the beneficiary. Hence, your duty is to reduce the risk of the beneficiary, your loved ones, and storing your life insurance policies in a fireproof safe is a good idea. They should know where those important files are, and remember to give the code to your attorney or a trusted family member.
It is not a good idea to keep your insurance policy in a safety deposit box at your bank.
Only the executor of your estate will be allowed to access that deposit box, which will cause delays and more hurdle.
For these reasons, a good fire-retardant safe is the best place to store your life insurance policies.
9. Bonds certificates
A bond certificate shows evidence of the ownership of the bond as well as its terms: face amount, interest rate and maturity date. It is not always necessary to own a bond certificate because often issuing companies have your register bonds in their records.
If you happen to own unregistered bonds, as it is often the case, these bonds don't have the bondholder's name printed on them. These are called bearer bonds, and their title transfers with ownership. They are like cash. If your bearer bond certificates get stolen, you lose everything, like cash, because the thieve can collect interest payments or sell them back to the company.
Bearer bonds, like cash, must be stored in a good fire-resistant safe. They are owned by whoever physically presents them.
Most bonds now are registered electronically by their issuing company.
10. Spare car or vehicle keys
This always a good thing to keep an eye on your car keys, or your other car keys. With the advent of electronic security for automobiles, it is every day more difficult to steal a car. But imagine your beautiful car is on your driveway, in sight of anyone passing by. And your house is far easier to break in than your car. It is so easy to break your door and steal your keys and then drive away with your brand new or indispensable car. Often a household has two or more cars, with one left alone in the driveway with nobody at home. These keys as well need to be secured in a safe place.
Your home door is far easier to break in than your brand new SUV.
Car keys, spare keys, or keys of motorcycles or cars that are not used every day should always be stored in a safe.
11. Passport
Your passport is needed to travel abroad but also is a proof of your citizenship. It is a very important document to have in a safe place. When you need to go abroad, your passport shouldn't be lost somewhere in your home. You might have to cancel or postpone your flight. But more importantly, a passport shouldn't be stolen because it could lead to an identity theft.
When you're not traveling, your home safe is where you should store your passport, protected from theft or fire.
12. Internet codes
This is something that we usually don't think about. Everyone has an internet or digital life. The hub of that life is usually a smartphone or a laptop (computer). With all those services that require a strong password (your phone, your laptop, Facebook, Instagram, Twitter, iTunes, AppleMusic, Spotify, Shopify, your Bank, your online Broker, your insurance Company, your utility Company, AppleBooks, Amazon, Google Documents, Gmail, and on, and on…)
Chances are you have a kind of password protection plan, an application that store your passwords in all your devices and event synchronize them. Everything is well and good. But what happens if you lose an important password, or if something happens to you? The Police, your family, etc. might need to access your online accounts.
Remember the discussions between FBI and Tim Cook over an access of a locked iPhone? It is impossible to gain access to a crypt locked phone unless you are the CIA or something.
It happened also that somebody died that owned tens of thousands of dollars of content in iTunes (music, films, books). His or her heirs couldn't access to that content, that got lost eventually.
The master code for your code manager (whether it is keychain.app, Lastpassword, etc.) should be kept safe in your fireproof home safe, and the code of the safe given to your attorney.
Your beloved ones should inherit your digital goods.
13. Will and testament
This is obvious. A last-will explains how you want to distribute the properties you own in the event of your death. A will should as well testify other positions, and specify all the beneficiaries. To avoid disputes, everything should be written on paper, and I am not your attorney, you should get the advice of a professional. But common sense tells that to avoid dispute a will shouldn't be easily accessible.
Storing your testament in a deposit box is not always a good idea unless other people have access to that box. Otherwise, the bank will require a court order to open that safe deposit box, which will take a long time. But if you store it at home in your own safe, only trusted friends or relatives should know the code of the lock. Again, your attorney should as well know the code if you want to avoid the whole family around the safe with a locksmith in the presence of an attorney.
14. Social security card
This nine-digit social security number provides your one and only link to Social Security. It is important as well to self-employed people to keep track of wages or self-employment earnings. It helps to monitor your record when you're having benefits.
If your card is stolen, you can't change your number. That is why identity thieves love social security cards. If your card ever get stolen, you have to closely monitor your account and enroll an identity protection service. And that is not systematically covered by your insurance.
So: keep your social security card in the security of your home safe, you won't regret it.
15. Estate Documents
We already mentioned will and testament. There are more estate document such as :
Medical directive
Living will
Financial Power of Attorney

What happens while you are alive and well, if you become mentally incapacitated, or what happens after your death?
We are not going to explain through all of these in detail. But you understand that a document that states who will manage assets, retirement plans, etc. if you ever become incapacitated is of extreme importance. And it should be considered and stored accordingly. In a fire-resistant safe.
16. Annual Tax Returns
You must fill annually a tax return form and report your income, expenses and other information. You're liable for that document to a taxing authority and should be able to present it. You should keep the form at least 3 years after filling it or 2 years after paying the tax. But in the event of an error, keep in mind you should keep your annual tax return forms 7 years just in case.
Guess where your forms will be protected from fire and theft? For the last item, I'll let you guess.
17. Safe Deposit Box Keys
This is self-explanatory. Do not lose those keys. Do not store them in a drawer in an accessible room. You get the point. A safe is a good option.
18. Property titles
Property titles for your home, your investment houses, your property title deeds, etc. are important documents that also should be protected against fire.
19. Book
All right, this is a joke. But not as much as you think, really. Because old home safes where known for storing those books and images. And I have found such a book in a safe from the 1930s that I had to open for a client…
Conclusion
Now that you know (almost) everything, I would like to share what my experience has told me what NOT to do with a safe, what you will be better of storing elsewhere. This is I bet a good read as well.
Some people might prefer using a safety deposit box at their bank. I didn't go that route, here is why, but I understand you consider that option too (I certainly did). But the reasons I listed there made me choose a home safe instead, how about you?
Lastly, if you want to supercharge your safe with many things listed above, be careful to protect them from another risk: humidity. And particularly if your safe is not in a climate-controlled room. This is what I did to prevent moisture in one of my safes (stored in my garage) in order to prevent moisture. So far, I managed to keep my valuables in good condition.