1. Sentry Safe SFW123GDC
If you just choose one, it should be this one. This is the one I recommend because it has the most important features:
a good enough size with 1.23 cubic feet,
it has a light inside,
it is fireproof,
it is waterproof,
it comes with a digital keypad and a key
you can buy accessories like an additional tray for example.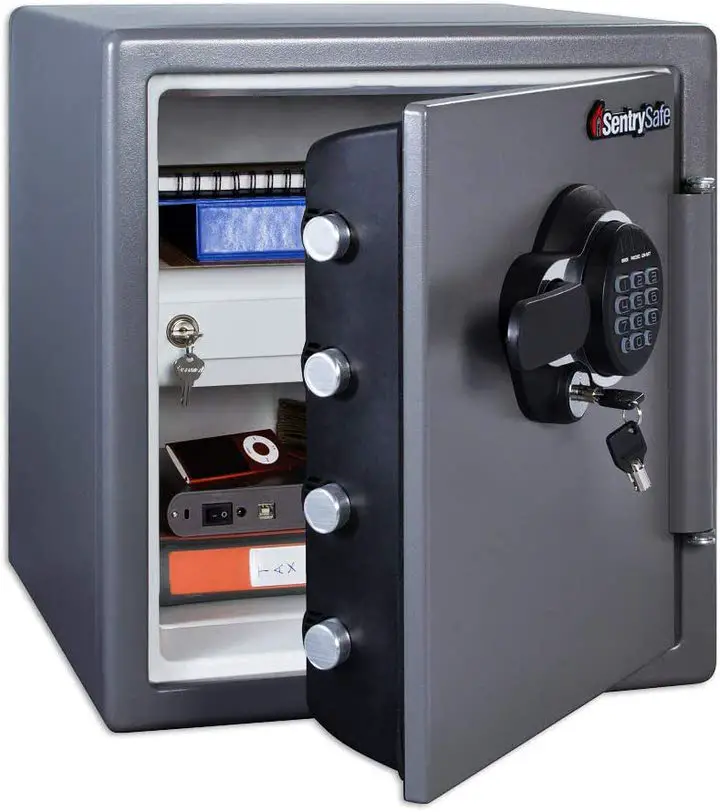 It is a great value for money and comes quite cheap on Amazon.
This size is perfect for storing A4 documents that you don't want to fold, rigid files… You can fit other small valuables along with it. You can add a tray, and even get a small locking compartment for additional security: an internal locking drawer.
Security
This Safe has several interesting features:
4 one inch bolts that hold the doors closed,
a hinge bar reinforces the door of the safe on the side of the door opposite the bolts to give perfect and balanced security against forced entry,
Impact resistance: this Sentry safe is rated to resist to a 15 ft. drop test. It is a known way of opening and destroying safes to drop them from the first or second floor to open them. Good safes are rated to resist that kind of treatment. This one is.
A lit digital keypad with programmable 5-digit codes.
the key gives additional protection. It is NOT a backup key. It gives the owner the possibility to override the main combination lock.
interior locking drawer: you can further conceal your most important valuables.
Bolt-down kit: it is crucial that you secure your safe to a concrete wall or hard floor. You won't have any excuse: your bolt-down kit comes with the safe. You will just have to choose the place to put the safe and drill.
Convenience
the keypad is lit for easy use in dimly lit rooms.
there is a light inside the safe to easily find and store your valuables.
a bolt-down kit is provided.
Certifications
1-hour fireproof at 1700 °F (927 °C)
24-hour waterproof. Your valuables are protected against flood, of course, but also against the water used to put the fire out. It can also help against humidity and mold.
2. Small and Basic Safe
For those as well, I would stay away from Amazon basics. This is a product where you definitely want minimum quality. You don't want to be stuck in front of a broken safe without being able to access your important documents or valuables when you need them most. And remember: it is crucial to anchor the safe to a wall or the floor.
Again, I will recommend a safe from Sentry, the X105 model with a digital keypad.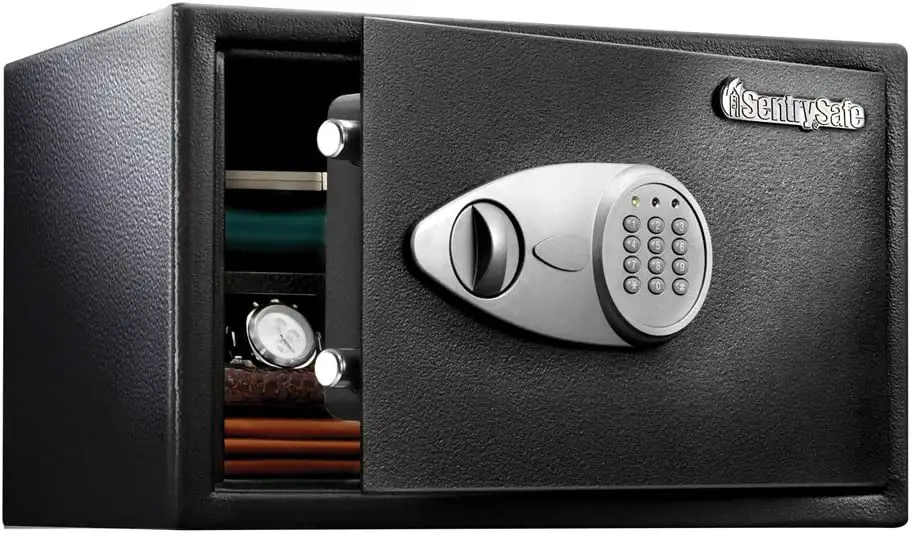 This little safe is of acceptable quality. It is neither waterproof nor fireproof thought: it is too small for that (heat insulation requires big two-walled sides. This size allows for laptop storage as well as A4 documents without the need to fold them.
There is a small light inside and the electronic lock is easy to use.
It is crucial to anchor your safe with a bolt on a wall or floor. It will prevent or at least hinder a quick theft of your safe itself. I would definitely choose a bigger size, but I know there is a need for small home safes: so this is the one to choose if you need one. It is often on sale at a 30% discount on Amazon.
3. Bigger Safe
For a big safe I will recommend this one :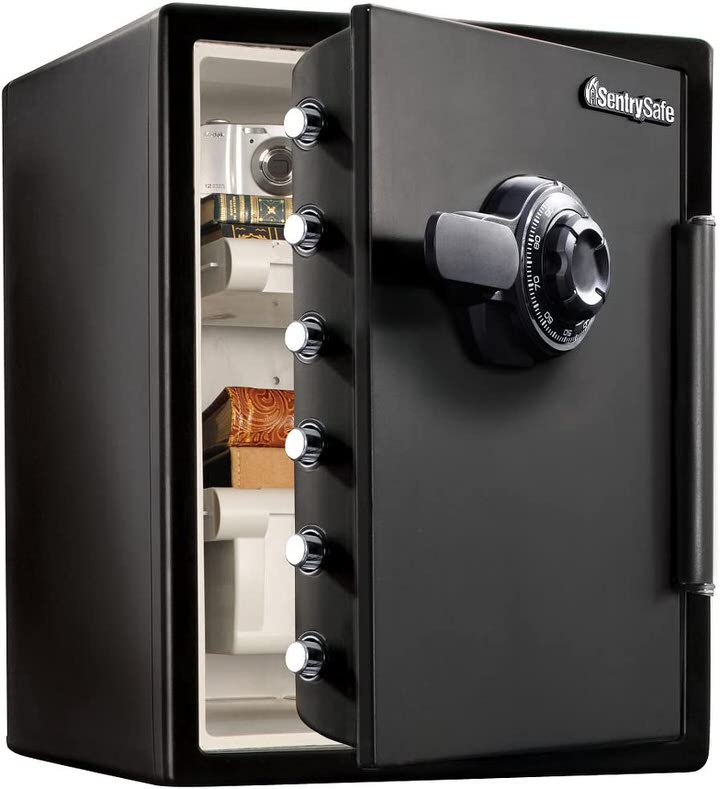 4. Sentry Fireproof Water Resistant Lock chest
This little safe from Sentry has many advantages. It isn't a safe strictly speaking, but it will be useful in everyday life, whether at home or at the office.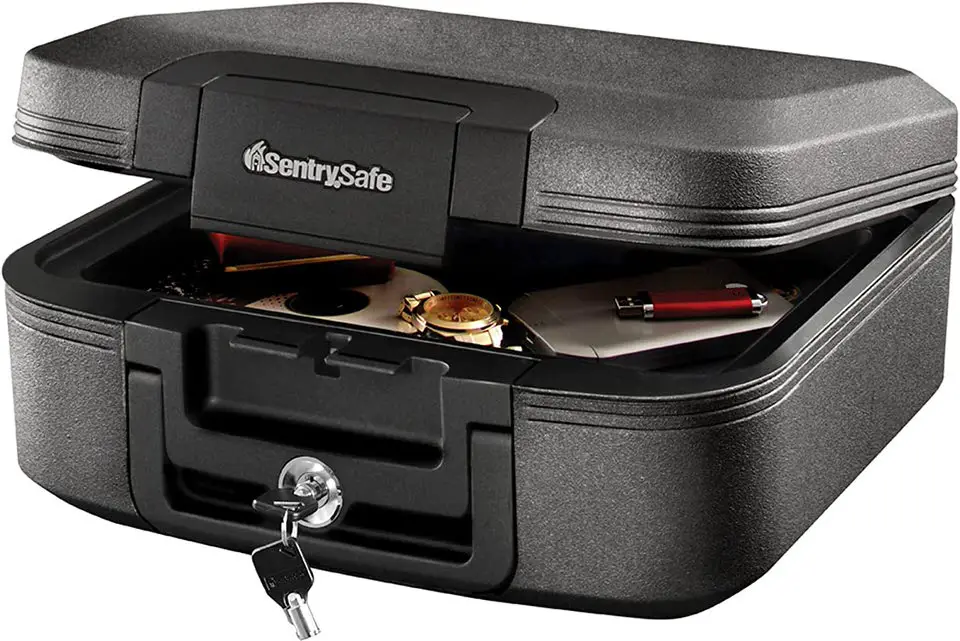 It is a great complement for storing money or checks in the drawer of a desk for example.
You can lock the chest shut which gives greater control over its content,
You will have protection against fire,
You will have protection against water damage.
At the end of the day, you can bring it back home or put it in a bigger safe.
It is a great upgrade to your existing safe.
If your home or office safe is neither fireproof nor waterproof, you won't need to change it to get these expensive features. You just can find a place in it to store that locked chest and have your most valuable content protected against fire and water on top of theft.
So, at the end of the day, it is a cheap and handy upgrade to any safe. You can check today's price on Amazon, and it is often on sale.