I wanted to have my belongings secured and walk away from home in a light spirit. That is why I decided to buy an excellent safe and install it myself. But I didn't know if I would be able just to lift it.
How much does a safe weigh? A small safe can only weigh as little as 6 pounds. A more robust one with fire retardant starts from 90 pounds and more, according to its size and capacity. An excellent safe of professional quality can weigh from 250 pounds to almost no limit. The weight of the safe is mainly determined by what it is made of, and its capacity.
How do safety and size determine a safe's weight?
Many homeowners choose a safe with a high capacity and low weight which is not always a good way to go as there is often more to it. How to properly balance safety, countenance, and weight? Safe manufacturers don't always advertise their safes properly in that regard either.
Weighing a Collection of Safes
We can describe three types of safes:
Typical Safes Weigh in lb and kg
| | | |
| --- | --- | --- |
| Type | Weight | Typical |
| Strong Boxes | 15-45 lb | 25 lb |
| Medium Range Safes | 100-250 lb | 180 lb |
| Better Quality Safes | 200+ lb | 350 lb |
Weights in lb
| | | |
| --- | --- | --- |
| Type | Weight | Typical |
| Strong Boxes | 7 – 20 kg | 11 kg |
| Medium Range Safes | 45-110 kg | 80 kg |
| Better Quality Safes | 100+ kg | 160 kg |
Weights in kg
Lightweight Strongboxes typically weigh 25 lb (11 kg)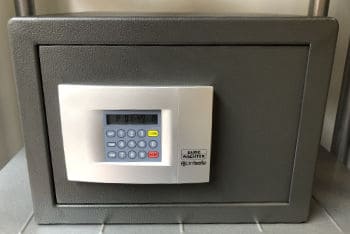 Small safes on the cheap side are light. This is a good you can easily order and receive using a regular mail service, handle alone with no particular care, and bring up in your home or apartment like a piece of cake. No damage will be done to your stairs, wall corners, or your own back! You can more think of those as reinforced boxes. They usually weigh in a range of 15 pounds (7,5 kg) to 45 pounds (20 kg). They are usually made of a solid one-walled body and double-walled door. Their compact form-factor gives you an easy time finding a place to secure them or hide them. You can choose your cupboard, shelves (in a garage for example, as I did) but also a desk or other types of furniture. They are easy to access in a day to day use.
But you'd better secure them properly as they are so easy to take and run away with. If you doubt how to anchor them and want to know what pitfalls to avoid, then you can read our article on how to install a safe following manufacturer's guidance and best practice.
I went that route a couple of years ago and chose a small strong box.
But now I want to upgrade to a bigger fireproof safe. This is lesson learned number 1: always think ahead when you plan for a safe purchase. Anticipate your future needs in terms of security and size…
Medium Fireproof Safes typically weigh 180 lb (80 kg)
Long story short: if you hesitate while buying a safe, chose one of those medium-sized fireproof safes.
First, as they are fireproof, they have to be a certain size. Because of the thickness of their body material with fire retardant, they need to be bigger in order to have proper room inside. These are the kind of safe I am currently considering buying for myself now.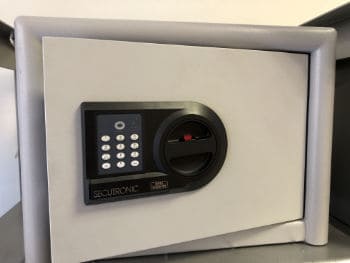 They range from 100 pounds (45 kg) to around 250 pounds (115 kg). You won't usually receive one of them through regular post service. A carrier will bring it to your door on a pallet. Then, depending on the size, you can handle it yourself with a trolley or a roller pallet. Do NOT remove the packing straps yet as they will provide important handles to grab the big box and have it in place. For the biggest ones, usually, two people will be enough with a good trolley.
Those safes are of more sturdy construction. The body is double-walled, the shutting bolts are stronger, and the hinges reinforced. As well as the smaller strongboxes, it is strongly recommended to anchor your safe to prevent the stealing of your valuables. The manufacturer ships fixing material with it and the safe is pre-drilled on the back and on the bottom.
With good weight, fireproof quality, and insurance coverage, medium size safes often provide the best value for home-usage.
But if you want to go further, have even better quality as well as security, read on.
Bigger Professional Safes weigh 350 lb (160 kg)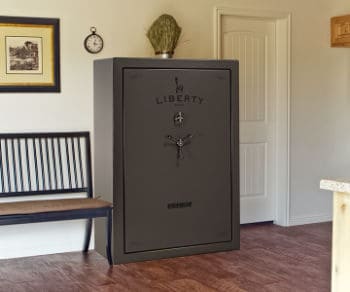 You can learn and buy your professional safe without the help of a locksmith. If you aren't as good a DIY person as you think you should be, nevermind, some carrier will bring your safe up in your house and might even secure it on a wall or on the ground.
Those safes are big babies that can weigh 200 pounds (100 kg) up to 400 pounds (200 kg) and more.
With the delivery and handling out of the way, let's focus on the characteristics of those safes. They are made of reinforced steel with a fire protection of up to 60 minutes thanks to specially designed fire insulation. The body is this time made of three walls!
The door is four-walled. It is particularly heavy in itself. Several heavy lock bolt on all four sides will operate when the lock is opened.
Think of heavy safes as heavy-duty safes. They can be operated often, offer strong value, big room inside, and usually 60 minutes of fire protection. This is definitely the way to go if your valuable deserve it (you only can tell) but you also need to keep safe documents, backups of any kind (flash drive, USB drive, you name it) that you cannot lose by any means.
The stronger the safe, the less likely it will be taken away by burglars due to its very weight!
Can I carry a safe with a trolley ?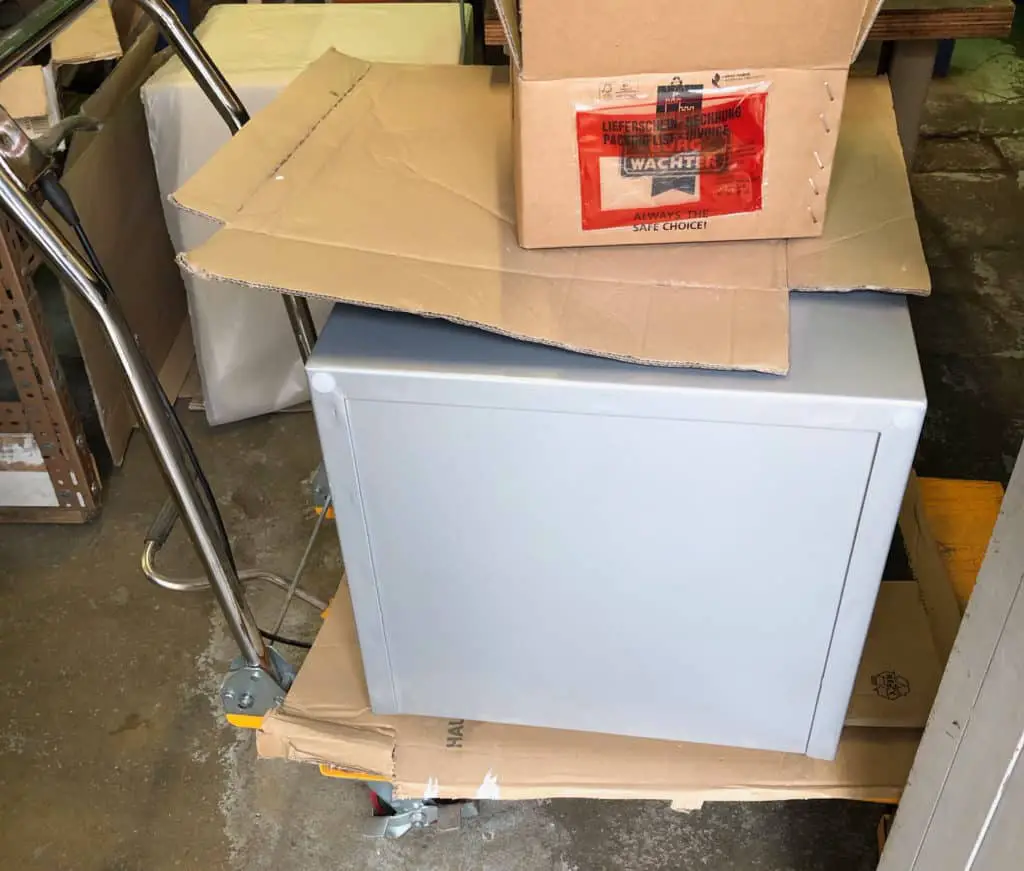 For lighter safes, you won't probably need it, but you might use one just for comfort. For medium fireproof safes, a trolley will prove itself handy or required. One hundred pounds can be heavy to carry, even for strong young people. Packing straps can help to hold the safe. If you have to go up a stair or even a couple of steps, a three-wheeled climbing trolley is a must. You can definitely bring a sturdy and heavy safe up the stairs with a climbing trolley with the help of a friend.
I did a lot of research on safes weight because I wanted to make sure I could move and install one myself. Read on my article on how to move a safe, you will learn further tips on safes and weight.
Do not damage your home with your safe
Be aware that a heavy safe on a trolley can leave marks on wooden floors. We recommend protecting your floor with fabrics or cardboard as you will bring your trolley in. Be careful as well not to damage stairs. Damages can be only cosmetics. But the stairs can break under the load if you bring your safe down a basement or up to an attic or loft. Be careful as well not to damage your walls when you maneuver the trolley as the angles are stronger than your wall ! Unless your walls are made of reinforced steel, of course…
And because weight is not everything, read my general advice on how to choose a safe.
Is weight important for security?
You have already understood. The real value in light strongboxes is the speed at which you will have them ordered, received, secured, and put in service. Security? A fast burglar who steals what is lying on the ground or resting on a table won't bother even with those safes. But they can be put at risk if the burglar has will and time. When properly secured with adequate material, medium-sized fireproof safes are an excellent way to go. Let alone bigger professional safes: their weight can greatly protect your belongings and valuables in the long run. This is a safe you won't regret buying – once in place!
So yes, even if your safe is properly anchored to a strong wall, its weight will deter anyone from taking it away.
A big safe with a reinforced door at 200 pounds can be a pain to handle. It is still possible to put them on a (sturdy) trolley as long as we are not talking of the strongest and biggest safes. Carriers often bring them for you and secure them. Their weight is proportional to the weight you won't have to carry on your mind, as you will be so peaceful when equipped with such a reliable safe. It won't move—neither your valuables.
Now once you know the average weight of a safe, I have listed for you the current prices of each type of safe and you will be surprised. My best places to hide a safe in your home is a must read too, as it will help you complete your buying decision…